It's no secret that some models have a complicated relationship with food. To have successful careers, they undergo strict diets, and we have seen many times models fainting on the runway because they haven't eaten. If you glance through any beauty magazines you will extremely thin models, that perpetuate an unrealistic beauty standard. The result from this kind of advertising, is that young women are often pressured to make changes in their life and can suffer horrific consequences.
According to The National Association of Anorexia Nervosa and Associated Disorders, at least 30 million people of all ages and genders suffer from an eating disorders in the U.S. Every 62 minutes at least one person dies as a direct result of an eating disorder.
It's horrifying to see how due to these cultural demands, eating disorders have flourished.
Many young women dream of becoming models, driven by the desire to be accepted my millions for being beautiful. One teenage girl was overwhelmed when she was 'lucky' enough to be spotted on the street and thrown into the modeling world.
To fit into the clothes, Victoire Macon Dauxerre who is now 23 years old, had to drop at least 20 pounds. How she did that was drastic.
Now she slams the fashion world with her "Never Skinny Enough: the Diary of a Top Model " memoir. Victoire Macon Dauxerre was discovered walking down a Paris street with her mother one day and soon after she was a top 20 model in the world's fashion capital. The quick success resulted with anorexia.
"No one actually told me you have to lose weight," she remembers. "But they said to me, 'In September, you're starting Fashion Week. Sizes will be 32-34 (2-4 US) and you'll have to be able to fit into them.'"
"That's when I should have left," Dauxerre said.
In her book, she illustrates how she was thrown into the business and her health quickly deteriorated. To survive and to get deals with top clients she had to fit the clothes. This meant she had to lose 20 pounds.
She did this by eating just 3 apples a day, drinking Diet Coke and once a week she allowed herself a small piece of fish or chicken.
The average apple has around 80 calories which means she had around 240 calories a day. Having in mind that we need between 2000-2400 calories per day, it's not surprising that she went down four dress sizes to just 108 pounds in a couple of months.
The horrifying thing is that she is 5'10" tall!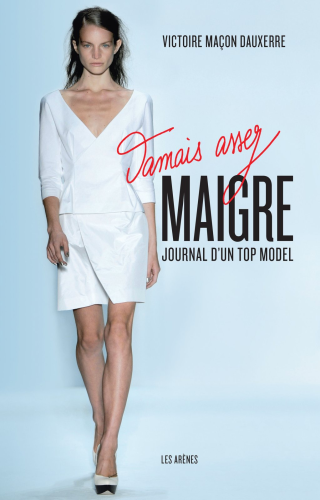 She was deprived, and the lack of nutrition took its toll on her body. She lost her period and developed osteoporosis, bulimia, and anorexia. But as she explained in the modeling industry is coldhearted.
"No one understood, everybody was telling me I had a dream life, but I had never been so miserable," the famous model said.
In eight months she was at breaking point and even tried to take her own life.
In her book wich was published a month after the French Parliament voted through a law banning ultra-thin models she describes the modeling life and how insidious disorder is anorexia.
"The models, they're nothing, they're just clothed hangers. In the 1980s, elite models were real people. Today, you have to fade behind the labels."
Although she feels the French law is "10 years too late" Dauxerre even sent a letter of support to the parliament.
Sadly this ban is only second in the world. It was Israel which passed similar legislation first. Spain, Italy, the UK, and Denmark have looser regulations against the practice. In the United States, the attempts for regulation have failed.
(c) metdaan.com